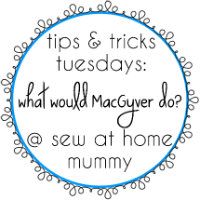 Every Tuesday, I'll post a tip, trick, or tutorial for or about sewing & quilting that I find useful in my everyday creative life, and, you the reader, are encouraged to post a tip on your blog, too. Please join me! I don't wanna be lonely...grab a button from the sidebar and link up!
Past Sewing Related Tips:
(click the thumbnail)
Like how this page looks? I used
!