Oh man, these are cute - have you seen them? Retro Singer sewing machines
10:01:00 AM
Okay so let it be known that I have two addictions in life:
1. Pinterest.
2. Window shopping on Amazon.
I am forever in search of a fantastic deal for something that's been sitting on my (or someone in my family or my household's) wishlist (because yes, I have multiple Amazon wishlists [at present, count: 8]). Anywho.
Couple these two addictions with the advent of smart phones and my chronic insomnia and you have the perfect storm. So this morning at 5:32am when I found these little sewing machines (it really was 5:32am) I was so freaking excited, I had to share. Then I started thinking - how could I justify picking up one of these little beauts?? They'd be great for sew-ins and retreats, RIGHT?? Blerg.
I keep hoping I'll magically find my Singer Featherweight at a fantastical garage sale where the person selling has no idea the gem they have and sell it to me for, oh, like, $20. Wouldn't that be nice? Never happens.
I digress! Aren't these cute? (and I added Amazon.com affiliate links below for your reference and pajammy-shopping pleasure)
They appear to be a special edition of sorts of their
"Simple"
line of machines (model numbers are the same), and perhaps their (full sized) answer to
Janome's Derby machines
? (pure speculation here on my part)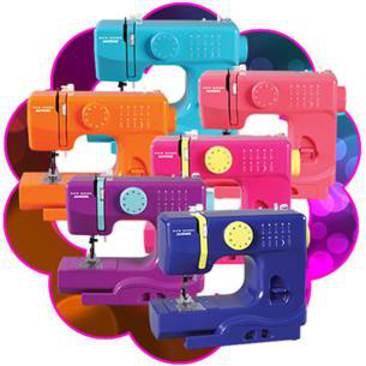 Janome's Derby line of pint-sized colorful sewing machines
image from International Housewares Association
I do like the Singer machines.
And the price point
similar to that of the Janome makes me think again, they're trying to compete with Janome in the colorful portable machine market.
The 23 stitches on the Singer 3223 including button holes makes it a pretty viable little machine.
The fact it has a free arm is a bonus, too - (one of the only things I miss on my big Janome)
And the metal body is something I like, too -
Normally I'd gravitate to the Petrol (aqua) color but they're all cute. Who am I kidding. They're selling it as an entry-level, beginners sewing machine but really I see it just as much a secondary travel/portable machine for the accomplished sewist/quilter. (or maybe I'm trying to justify adding it to my wishlist, right? Oy.)
So, after reading a few of the comments below regarding the tiny Janome machines (of which I've never driven, but have driven a Singer Simple model (just not this retro model one)), I thought I'd do a comparison run-down of the two machines - especially since I was the one who went and compared or at least inferred a potential parallel between the two in the first place above.
And because I tend to geek out with stuff like this, I made a handy-dandy chart. Seriously.
The most glaring differences in the two machines are the weight (with the Singer weighing in at more than double), the sizes (again, the Singer is a larger, full-sized machine) and the frame composition (metal vs. plastic).
The Singer has a higher rating on sites like Amazon and Joann, but has been reviewed by less people so is not as statistically significant - but - that said - the complaints on the Janome machine are pretty consistent and almost always the same.
Anyway! I'm seriously digressing now with all of these charty shenanigans BUT your comments were totally valid, and, for the record, I had not seriously considered the Janome Derby machines before (except for my little one) but this Singer machine, it'd be a definite contender for a travel machine.
Honestly though, what I DO love is that sewing machine companies are starting to come out with more colors and facades and special editions, making our machines a bit more fun. Have you seen the new rose gold Bernina special edition? I don't know what it does - probably everything and all of the dishes in the kitchen sink - but damn, it looks pretty (...and damn, I wish I had that kind of money...)
These colorful machines are fun. They're not for everyone. But they sure make this quilter smile.
Happy weekend, everyone!
*this post contains affiliate links to Amazon at no additional cost to you. For more information, please visit my
Disclosure Statement and Advertising Policies page.