Don't be Playa hatin' (adding some gorgeous Aurifil to my stash...I got a killer deal...wanna know how??)
8:00:00 AM
Well dust me with sparkles and color me pink, it's SUNDAY STASH SHARE again, ladies and gents!
Hang on to your bobbins, sewists. I got an awesome deal on some Aurifil. Just over $7/spool. Ya.
I mentioned in an earlier post here how to get the deal - it was through "
Massdrop
". Basically, it's this online community where you and a whole wack of other people can sign up to buy a certain product, then
Massdrop
goes to the company or wholesaler of the product (in this case, Aurifil) and secures a super-fantastical deal - because
Massdrop
buys a bunch of the product (in this case it was over 120 boxes I think) and then turns around and passes the savings on to you in the "drop".
I was a bit hesitant given that most of the stuff on their site is for Dudes. Literally. Audio and visual stuff with letters and numbers in the name and I have no *clue* what that thingamajigger is... so I thought the Aurifil would probably be a one-off.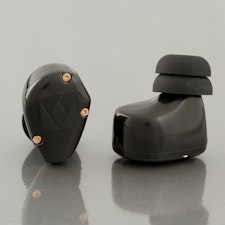 Example of a thingamijigger.
Massdrop says: "Noble 5 Universal BA IEM"
Sew at Home Mummy says: "Huh?"
Not so.
Because it's a
community
, if you're registered on the site (and if you bought a box of these lovelies from them last week then you are...) you can create a poll or participate in polls for products YOU think Massdrop should have a "drop" for. Once the poll has enough respondents
Massdrop
contacts the manufacturer or wholesaler to secure a deal.
There are some pretty cool quilty/sewy related products being voted on right now - including sewing machines, irons, rotary cutters, die cutters, shot cottons - if you're interested, head over there and check it out. Just click on "Vote" then "Crafting".
image courtesy of Massdrop.com
Unfortunately the Aurifil deal is over now - but that wouldn't stop someone from creating another thread poll! I hope you don't mind me passing it along - this is like my way of passing on the "Coupon Love" - money is tight here and I'm always looking for awesome deals!
Please note that I have edited this post as of May 29, 2014. I was mistaken in saying that Massdrop had spoken directly with Aurifil - but in reality had contacted a wholesale distributor to secure the deal. I apologize profusely for misspeaking!