Friday Sale Finds: Sharing the Coupon Love #28
6:00:00 AM
Good Friday morning everyone!

I hope everyone's week out there in blog-reading land wasn't too hectic. Mine found me a little tiny bit of sewing and quilting time, a little bit of time for messing around with my Aurifil thread for picture ops on Instagram -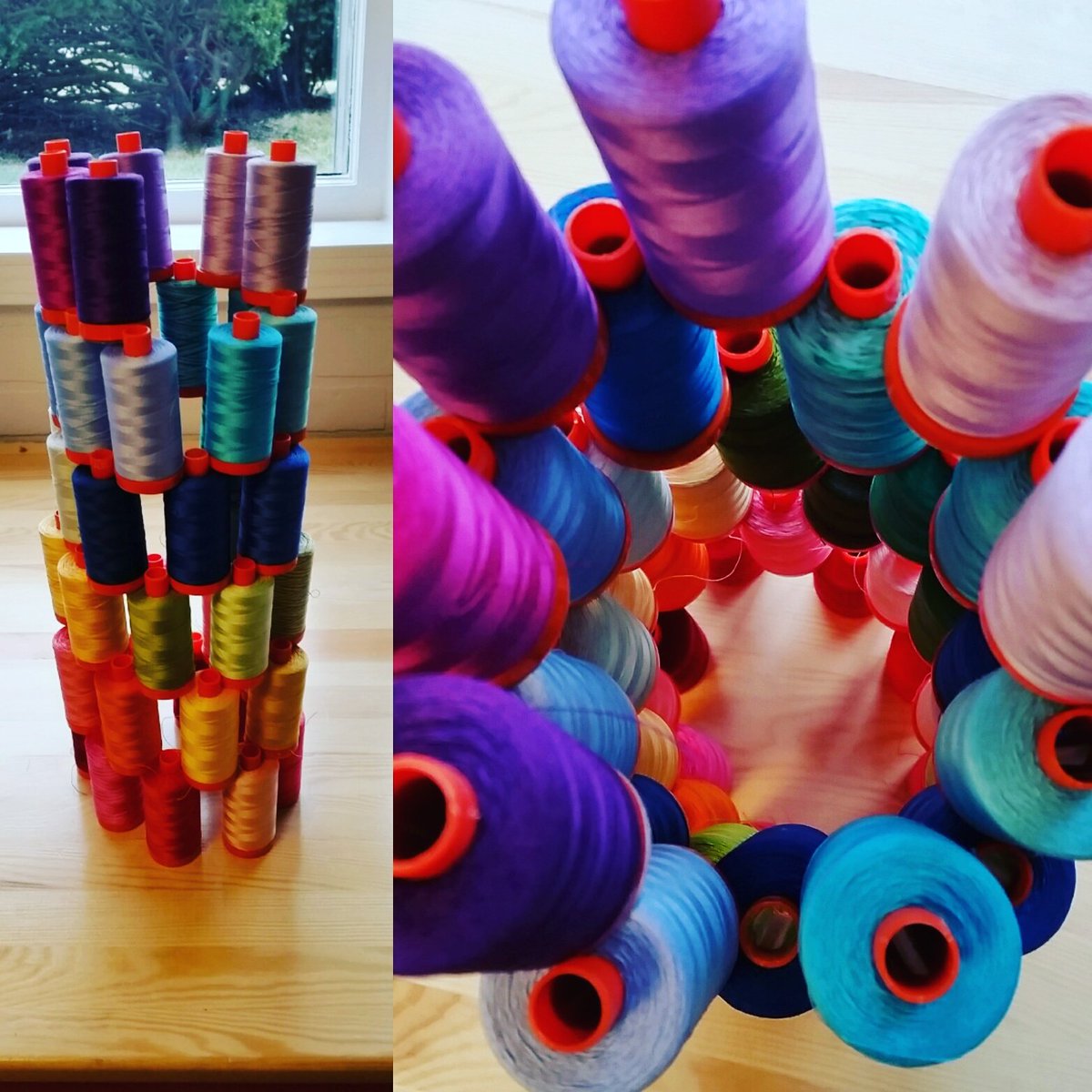 but mostly a lot of errand-running and paperwork gathering and passport photo-taking (< that one was for the kids - it is an all morning thing trying to get two toddlers sorted for passport photos; the whole time my mom musing over the olden days when kids could just travel on their mother's passports, and now kids, especially kids like mine who (by no fault of their own, hahaha) are dual-citizens and have to hold BOTH Canadian and US passports to travel now to Canada and then back into the US. It's a pain in the tookish. And expensive. But I digress!)
I did manage to steal a bit of time at night and in the wee hours of the morning scouring the internets looking for some great deals for this National Craft Month, and here's what I came up with! I have included affiliate links below for your pajama shopping pleasure to my gorgeous sponsors. Without them I wouldn't be able to keep this blog running or offer up the
Giveaways
, Freebies and
Tutorials
that I do, so thank you to them!
If you've found a great deal out there, please feel free to share in the comments, myself AND my readers always love to hear about some money saving deals. And, if you're thinking of buying a sewing machine this National Crafting month, make sure to check out my post -
for tips and tricks on getting the best price on a machine.
Without further adieu, here are the deals I came across this week (make sure to share yours in the comments!) -
QUILTY BOX:
Quilty Box
is an online subscription service that offers monthly boxed quilting inspiration, straight to your door, and they are offering $10 off your first box with the coupon code
GETQUILTY
.
Each box is packed with premium fabric, notions, patterns and more, and is curated monthly by one of the industry's top quilty designers. They have one, three, six and twelve month plans you can subscribe to for yourself or give as a gift!
THERM-O-WEB:
Therm-o-Web
is celebrating National Craft Month with a sale all month long! They are my go-to company for all of my interfacings and fusibles for my applique projects. (I also love their spray baste for basting my quilt tops).
From March 1-31 use the code
LUCKY
for 15% off on all orders of $15 or more AND free shipping for continental US! (They are also having the ULTIMATE in Deco Foil Giveaways, so make sure to head over to their website to enter - over a $300 value.)
From now until March 23,
Craftsy
is having a
50% off craft supply sale
on everything from their batting to Aurifil threads to their precuts and quilt kits and yarns and more!
SEWING MACHINES PLUS:
SewingMachinesPlus.com
has their March Madness Sale going on now, with many of their sewing
machines discounted up to $400
. If you've read my tips and tricks post
(here)
on how to save money when buying a sewing machine, and you don't live in the same state as this store and were considering buying a machine online, you'll also save sales tax on your machine purchase so this may be an option for you. I see several of their longarms, notions, cases and tables are on sale, too.I also have an additional coupon code for you to get 5% off your total order and it appears to have no strings attached (I can't find any fine print or limitations on the code on my end!) - it doesn't expire and the code is
fivepercent
from EverSewn.com
AMAZON:
Cruising
Amazon.com
(affiliate links here) the other day I came across this ad banner for
EverSewn
, and thought to myself - huh - what's this? Yet another sewing machine
company? What's this all about? Well, it turns out this is a Chicago-based company! Too cool, right?! So I thought I'd give a little shout out to them, and, if any of my readers have happened to have tried one of their machines, let me know. I feel the need to try one of these sewing machines! Anyone know anyone from this company? hahaha. - but their machines and their gear are now available on
Amazon.com
, take a boo!:
FAT QUARTER SHOP:

Make sure to check out the
Fat Quarter Shop's Flash Sale
section at 10am every day for a new set of deeply discounted sale items, and also note that this month their
Basic of the Month is Cookie Dough by Wilmington Prints
and their
Sale Section
is full full full of fabric-y goodness!
SHABBY FABRICS:
Shabby has a huge selection right now of fabrics in their
sale section
, hundreds to choose from - and free US shipping on orders over $75 and international customers save 20% on shipping on orders over $10!
Fewf. That was a lot of online window shopping. What have you all been up to? Are you stash-sharing this weekend or did you keep your pennies in your pockets? (I spent most of my budget on government photos, kids vitamins and co-pays. It was an exciting week here 😋) Have you heard of these EverSewn machines? I'm really interested to hear. Especially if you were at a show recently and happened upon them. Do tell!
*this post contains affiliate and sponsored links at no additional cost to you. For more information, please visit my Disclosure Statement and Advertising Policies page.